10 Favorite Oscar-worthy Movies Set in Brooklyn
1. Saturday Night Fever (1977) – Bay Ridge
Forty years after moviegoers first watched John Travolta strut down 86th Street bringing both Brooklyn and disco to national prominence, the neighborhood's roots remain strong (not as true for disco, although there was a revival dance party last year at the discotheque in Bay Ridge where the former 2001 Odyssey nightclub resided). John Travolta was nominated for best actor Oscar as Tony Manero, a working class Italian-American teenager who escapes the confines of his bleak daily life by becoming king of the disco dance floor on weekends while dreaming of a brighter future. The Verrazano Narrows Bridge still looms large and is a defining feature of the neighborhood, and Lenny's Pizza continues to dish out crispy pies on 86th Street near 20thAvenue. This film also boasts one of the best selling movie soundtracks of all time.
2. Moonstruck (1987) – Brooklyn Heights/Carroll Gardens
Who among us hasn't uttered the classic, "Snap out of it!" in signature Cher style or strolled down the Brooklyn Promenade dizzy with love? In this intoxicating rom-com, a full moon over Brooklyn casts quite a spell. Loretta, a 37-year-old widowed bookkeeper, lives with her family at 19 Cranberry Street in elegant and sedate Brooklyn Heights. Engaged to a man she does not love, she soon finds herself falling for his fiery younger brother, Ronny, played by Nicolas Cage. Though the movie centers on their love story, it actually features several love stories. Operatic in its emotional scope and style and with a boisterous cast of characters, it still manages to remain a sweet, subtle, and uplifting movie. Oscars were awarded to this film for best actress, best supporting actress, and best original screenplay; it was also nominated for best supporting actor, best director, and best picture.
3. Do the Right Thing (1989) – Bedford-Stuyvesant
Shot entirely on location on Stuyvesant Avenue (now officially re-named Do the Right Thing Way), this landmark film on race-relations has been touted as one of the greatest movies of all time. Heat, on the hottest summer day in memory, is the catalyst for racial tensions to rise and eventually boil over, as violence escalates along with the thermometer. Unleashing an explosive and provocative story with a multitude of characters, conveying the palpable polarities and vibrancy within an "inner city" community and also touching on police brutality, this film introduced the world to legendary Brooklyn-based filmmaker, Spike Lee, who was nominated for his first Oscar for best original screenplay. Now-famous supporting actors included John Turturro, Rosie Perez, Giancarlo Esposito, Samuel L. Jackson, Martin Lawrence, and Danny Aiello.
4. Dog Day Afternoon (1975) – Windsor Terrace
Based on the wild true story of a bank robbery gone awry in 1972, this film also takes place on the hottest day of the year and is rooted in magnetic and gripping performances. Al Pacino stars as Sonny, who concocts a plan along with two of his cohorts to rob the First Savings Bank of Brooklyn in order to secure funds for his lover's sex change operation, only to find that there's not much left to steal since cash had already been picked up earlier that day. What follows is an intense and often humorous hostage situation, as the bank is surrounded by the city's entire police force along with a live media circus, which was rather prophetic at the time (though now commonplace), and everyone suddenly wants to be famous. Exterior shots were filmed on location along Prospect Park West, between 17th and 18th Streets. This lively film won best original screenplay and was also nominated for best actor, best supporting actor, best director, best picture, best original screenplay, and best film editing.
5. Sophie's Choice (1982) – Prospect Park South/Ditmas Park
Much of this absorbing and heartbreaking film takes place inside a large rooming house at 101 Rugby Road in postwar 1950's Brooklyn, along with scenes of lovers picnicking in the Vale of Cashmere inside the Parade Grounds of Prospect Park and enjoying a summer afternoon carousing in Coney Island. Perfectly cast, this movie stars Meryl Streep in her first Academy Award winning turn for best actress, as Polish immigrant Sophie Zawistowski; Kevin Kline in his first feature film as her tempestuous boyfriend Nathan; and Peter MacNicol as her confidante-turned-lover Stingo. The movie Volleys between past and present to reveal Sophie's story as she struggles to find her place in the world after surviving Auschwitz, where she was sent for stealing a ham reserved for Nazi officers and ultimately forced to make an impossible choice about her family. Her tragic story is beautifully illuminated in this poignant literary adaptation. Also nominated for Oscars in cinematography, adapted screenplay, costume design and original score, this movie can be found on many critics' top ten lists.
6. Brooklyn (2016) – Carroll Gardens
This understated, lyrical romantic coming-of-age drama alternates between a small industrial town in Ireland and a boarding house on Clinton Street in 1950's working class Brooklyn (then known as South Brooklyn, now differentiated as Carroll Gardens). A young woman named Eilis Lacey, played by the luminous Saoirse Ronan, leaves Ireland in search of opportunity and a better life. Initially quite homesick and daunted by the harsh reality and brashness of America, she meets Tony Fiorello, a sincere Italian-American man. He takes her on a date to Coney Island – where today, you can still ride the rickety Cyclone roller coaster and Wonder Wheel, which have been in operation since the 1920s. After being called back to Ireland, Eilis makes a very difficult choice in life and love. Nominated for best picture, best actress, and best adapted screenplay, this moving film is captivating.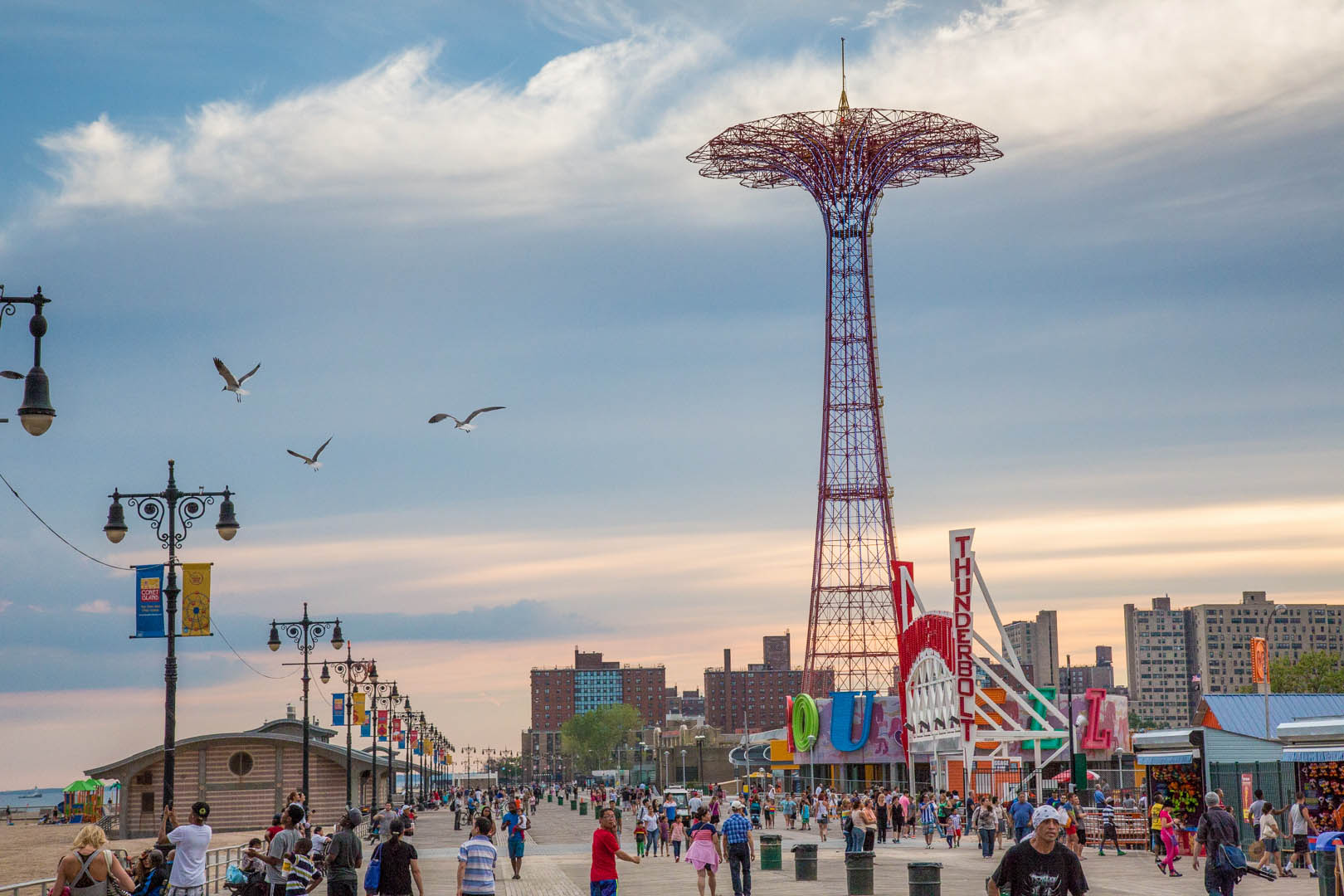 7. Requiem for a Dream (2000) – Coney Island/Brighton Beach
This harrowing psychological drama intimately depicts four different forms of drug addiction in raw and visually intriguing ways, displaying how far some people will go to escape their own realities and the havoc this wreaks on their lives. Director Darren Aranofsky co-wrote the screenplay with novelist Hubert Selby, Jr. and changed the setting from the Bronx to Coney Island. A vivid dream sequence in the movie takes place at the end of Steeplechase Pier along the Boardwalk, between West 16th and West 19th Streets. Ellyn Burstyn was nominated for a best actress Oscar as Sara Goldfarb, a TV-obsessed older, lonely woman who lives in Brighton Beach, misses her husband, and longs to hear from her only son. When a doctor prescribes diet pills, they end up causing hallucinations and a mental breakdown. Not for the faint of heart, this film is bleak but beautifully done.
8. On the Waterfront (1954) – Red Hook
This classic crime drama-cum-gangster film takes a harsh, unflinching look at corruption, trade unionism, and the power of conscience, bringing to light a powerful message in its time that still reverberates today. Set along the waterfront docks of Red Hook in the 1950s, where mob-run labor unions and brutal hiring bosses lorded over workers who were struggling to make ends meet, this authentic morality tale is helmed by Marlon Brando, who ignites the screen as longshoreman Terry Malloy, a quirky ex-boxer tough guy with a gentle spirit, who joins forces with a crusading priest and the courageous sister of a crime victim to stand up to the mob and seek reform. This realistic and influential film was nominated for a total of 12 Oscars, and won eight; ironically, three of the non-winning nominations were all in the same category of best supporting actor, where Malden, Cobb, and Steiger split the Academy's vote.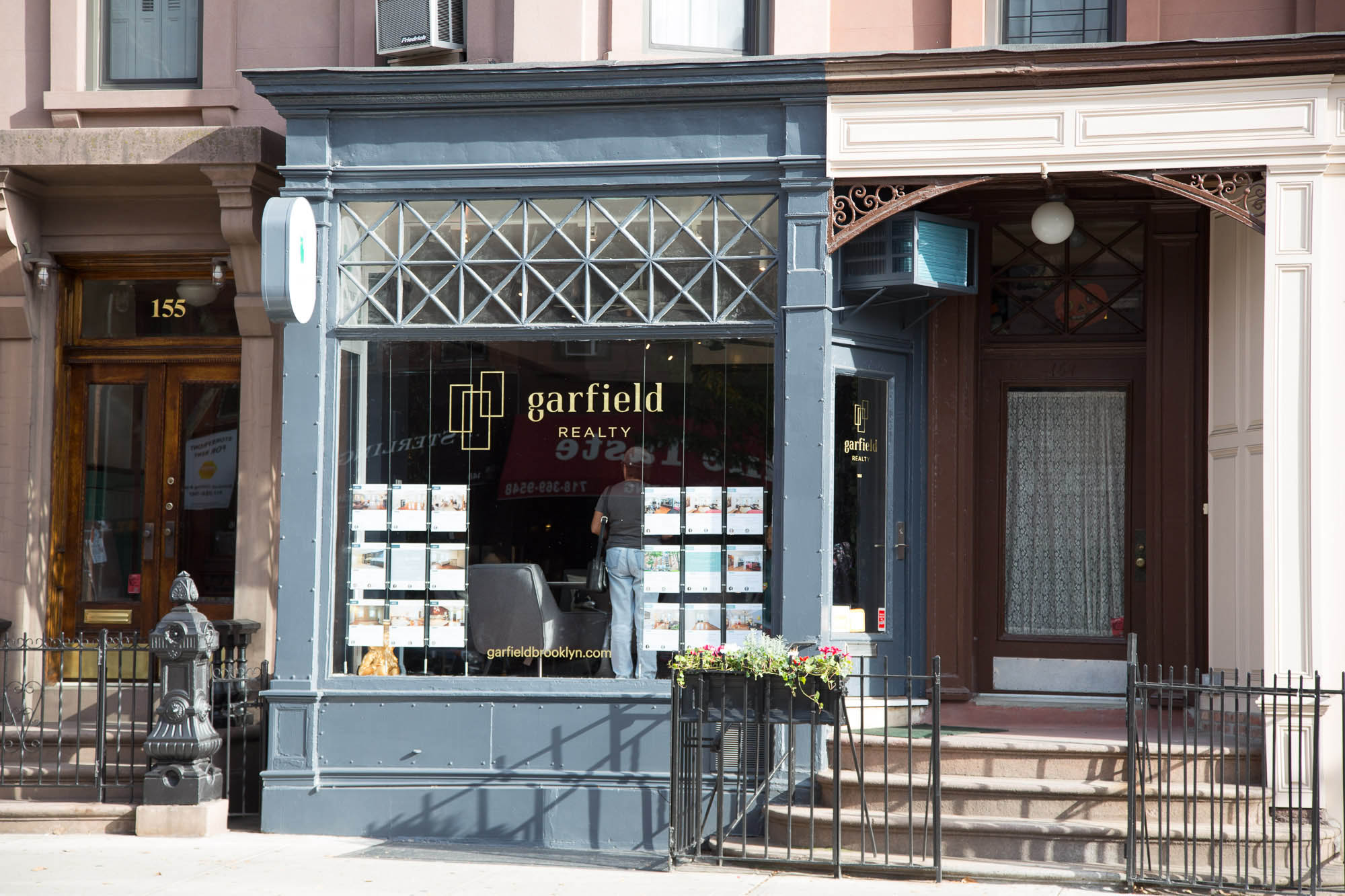 9. The Squid and the Whale (2005) – Park Slope
Park Slope represent! Nominated for best original screenplay, this bittersweet, uncomfortable, and tender black comedy centers around the messy divorce of Joan and Bernard Berman, played by Jeff Daniels and Laura Linney; a dysfunctional Park Slope couple, both writers, who wield their words like weapons – and the myriad ways in which their sons adapt to the implosion of their family structure. It takes place in the 1980s on the tree-lined streets of Park Slope, where the Bermans occupy a spacious 3600 square foot townhouse at 167 6th Avenue, which in real life recently sold for $4.55M in 2017 (vs. $1.61M a decade prior).
10. Little Fugitive (1953) – Coney Island
Nominated for best story (now known as best original screenplay), this minor but memorable classic is one you may have missed. Capturing a long ago era in 1950's Coney Island, this compelling and (at the time) groundbreaking movie is shot with hand-held cameras, amateur young actors, and minimal dialogue that was dubbed in after filming. When seven-year-old Joey is tricked into thinking he has killed his older brother Lennie with a rifle, he flees home in fear of being arrested, heads to the nearest train station and hops a subway car to Coney Island. While Lennie frantically searches for him, Joey wanders around the arcades, pony rides, and beach, unnerved by the thought of harming his own brother and simultaneously thrilled to be all by himself.
Featured Listings
More Articles