5 More Architectural Marvels in Park Slope
April 25, 2023
In our last blog post we shared five of our favorite Brooklyn architectural wonders that we pass by making the rounds as Park Slope real estate agents. Because our borough is bursting with architectural beauty, we couldn't help but share five more.
Which is your favorite?
1. Grand Army Plaza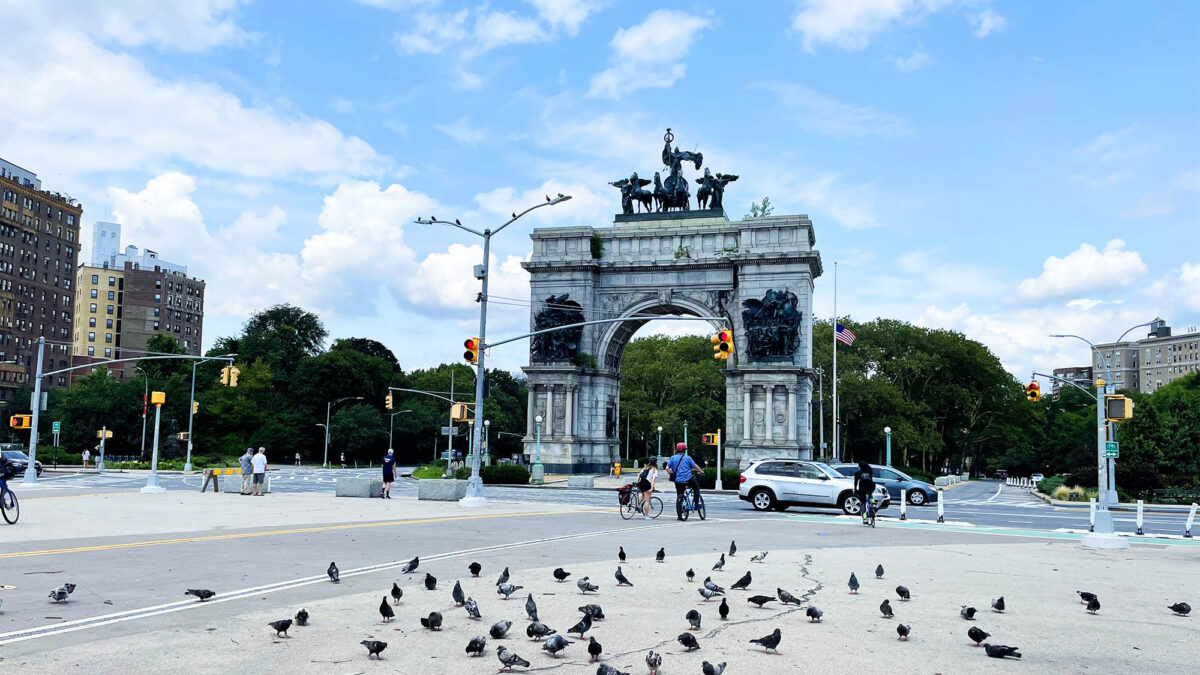 Being a Park Slope real estate agent means we cut through Prospect Park every chance we get, and that also means we spend a lot of time in awe of the magnificent Grand Army Plaza and its Soldiers' and Sailors' Arch. Initially known as Prospect Park Plaza, Grand Army Plaza was designed by Frederick Law Olmsted and Calvert Vaux in 1867, who are both responsible for Central Park too.
To commemorate Union fighters in the Civil War, the granite and brick arch was designed in 1889 by architect John Hemingway Duncan, sculpted by Philip Martiny, and features bas-reliefs by Thomas Eakins and William R. O'Donovan. The inside of the arch contains an original cast and wrought iron spiral staircase which leads to the top (check out this video of the arch interior!) but it's closed off to the general public. Both the arch and park are NYC landmarks, and the plaza a national historic landmark.
Grand Army Plaza
Flatbush Ave
Brooklyn, NY 11238
2. Congregation Beth Elohim
Whether you know it as the Eighth Avenue Temple, Garfield Temple or Congregation Beth Elohim, this gorgeous Classical Revival synagogue was designed and built by the NYC architectural firm of Simon Eisendrath and B. Horowitz from 1909-1910. The two-story sanctuary building is made of buff-colored limestone and red brick accented by stunning stained glass windows, beautiful columns and a tiled dome, and the building's five sides are a nod to the Five Books of Moses. Built in Romanesque Revival and Art Deco, the accompanying six-story Temple House across the street was completed in 1929. Both are part of Park Slope Historic District, included in the NYC Landmark district and on the National Register of Historic Places.
Congregation Beth Elohim
274 Garfield Pl
Brooklyn, NY 11215
3. Brooklyn Carnegie Libraries: Park Slope Branch
Ask any Park Slope real estate agent bibliophile where to check out a book and they just may point you toward this stately building, occupying an entire blockfront of Sixth Avenue. Built in 1905-1906 by architect Raymond F. Almirall thanks to a multimillion-dollar gift from Andrew Carnegie, the Prospect Branch (as it was originally called) was designed in Classical Revival style as evidenced by the large Doric columns, and heaps of brick and stone. Though the press initially called the design "imposing" and "the most pretentious" of the Carnegie libraries, we think it's pretty cool. The library has almost been in continuous use since opening its doors, and was designated an NYC landmark back in 1998.
Park Slope Library
431 6th Ave
Brooklyn, NY 11215
4. William B. Cronyn House
Feeling blue? A stop in front of the William B. Cronyn House will hopefully lift your spirits with its pleasant powder blue exterior and dollhouse-like accents. Constructed around 1856 by architect Patrick Charles Keely, the Second Empire Baroque-style residence was built for the Wall Street merchant of the same name, was later acquired by Charles M. Higgins who used it to house his India ink company through the mid 20th century, and since 1981 has been home to Slope Music. The freestanding three-story building is made of stucco and features a slate mansard roof, cast iron crests and so many intricate architectural details that always put smiles on our faces. It was added to the National Register of Historic Places in 1982.
William B. Cronyn House
271 9th St
Brooklyn, NY 11215
5. Old Stone House
If you've read any of our Park Slope homes for sale listings, you've likely seen mentions of Old Stone House because our agents love to include it in neighborhood writeups since it's such a great place to visit. The current Colonial Revival house constructed in 1935 is a replica of a Dutch stone farmhouse that was originally built by Claes Vechte adjacent to its current site back in 1699. The replica was built using many of the original farmhouse's stones and boasts solid stone walls and high brick gables. Between the building style and the original structure's prominence in the Revolutionary War, more specifically the Battle of Brooklyn, a trip here is definitely a bit like time travel. Today the building is home to a historic interpretive center with permanent and rotating exhibits, community activities and events. In 2012 the house was added to the National Register of Historic Places.
Old Stone House
336 3rd St
Brooklyn, NY 11215
---
If you're looking for a Park Slope real estate agent to help you buy, sell or rent in Brownstone Brooklyn—and to share some architectural facts along the way—contact us today.
Featured Listings
More Articles