Optimizing Your Space for Virtual Holidays
November 29, 2020
With the colder temperatures that have overtaken NYC and the ongoing threat of Covid-19, we're probably all going to spend more nights in than we normally would this holiday season. But that doesn't mean you need to forgo the fun, elegance or style. Here are some tips to optimize your space and perk up your virtual holiday celebrations.
Opt for a Festive Zoom Background
Whether your loved ones live in Brooklyn, elsewhere in NYC, across the country or across the pond, you can still get together for virtual festivities. These holiday Zoom backgrounds will transport you to a stylish, cozy locale without having to venture outside your home. Or, if you're going more for out-of-the-box fun than elegant style, try a museum Zoom background or a party Zoom background.
Transform Your NYC Space Into a Destination
Most of us probably won't be fighting the holiday crowds at LAX or JFK this year, but that doesn't mean you need to miss out on travel and culture. Pick a destination, do some research, then decorate your NYC space to pretend you're in that particular city or country. Add some music to go along with it, make or order some authentic dishes, and pick a movie to watch that is set in your "destination" or written in the local language.
Host a Cocktail Night
Already have a home bar? Great! If not, try transforming a small area to either pour yourself a drink, entertain your housemates or throw a virtual cocktail party. Get creative, whether that means turning your serving bowl into an ice bucket, making your kitchen cart or utility table into a bar cart, using different glassware for different drinks, trying out different garnishes or exploring new cocktail recipes. And for days you need a break from bartending, order some wine for delivery or pickup from a local Brooklyn shop such as Bed-Vyne Wine, try a pre-made cocktail from Bad & Boozy or pick up a concoction from your favorite local NYC bar. For a non-alcoholic version, try making mocktails, hot apple cider, hot chocolate or spiced chai.
Add a Fireplace
For those of us without fireplaces, adding one can create a soothing atmosphere. Try a fireplace heater if you're seeking warmth, a build-your-own faux fireplace if you want a project, a portable campfire if you're short on space, a WoodWick candle (okay, it's not actually a fireplace, but it crackles just like one!) or a virtual fireplace for a quick solution.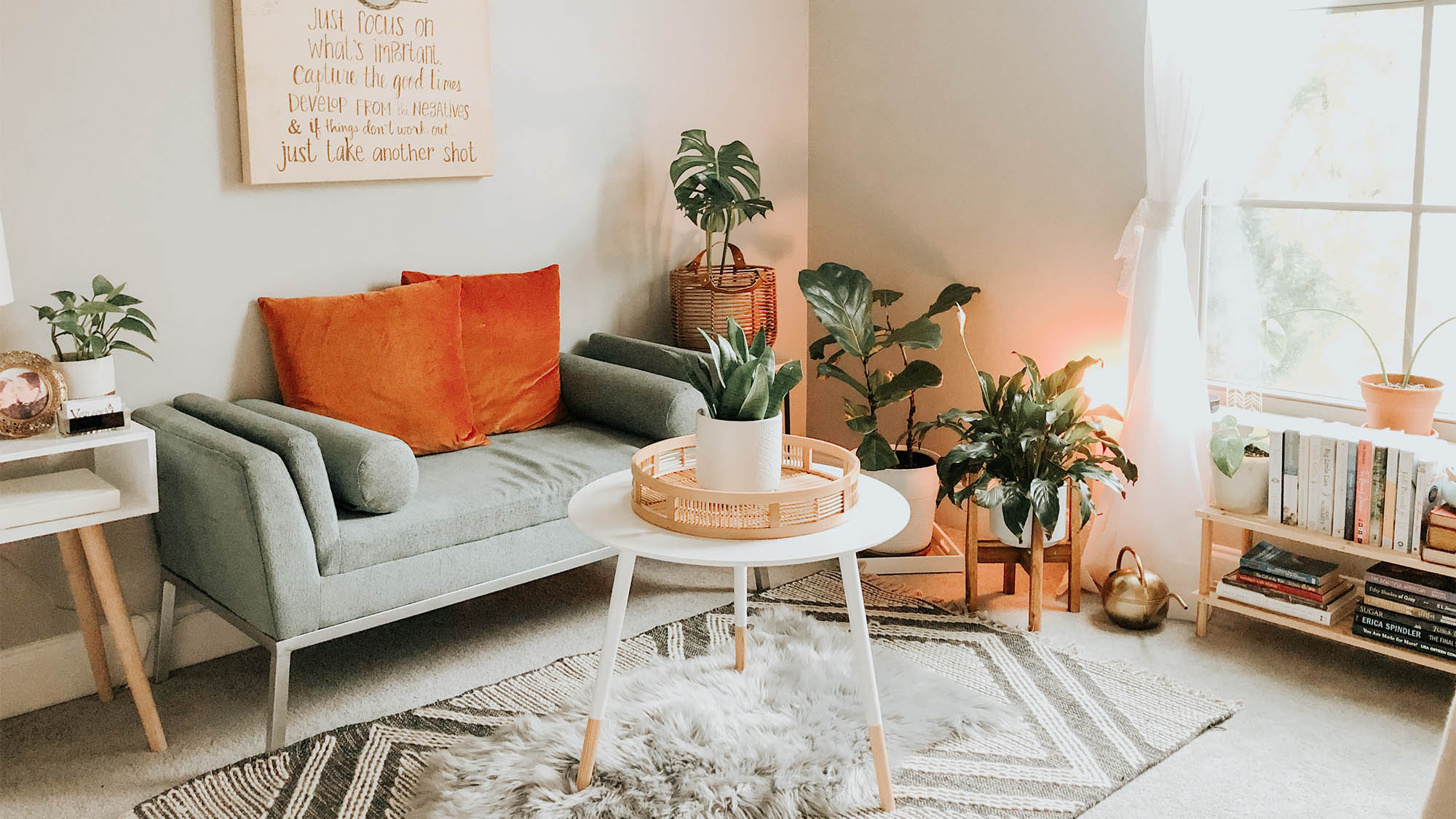 Switch Up Your Setting
If you regularly take your video calls in front of the same wall of your NYC home, try switching things up. Another wall or a window with a view, different colored sheets or pillows, a far corner, or some new flowers or plants could help you (and your virtual guests) feel a bit more energized as if each chat is in a new location. Encourage your virtual guests to do the same so that you get to enjoy changes of scenery too. If you're talking to a friend or loved one who has never been to your home, you could always give them a tour.
Host a Game Night
Decorate your living room as if you're having in-person guests—make a centerpiece or buy some flowers, put out some hors d'oeuvres, perhaps a charcuterie board, pour a cocktail or mocktail, and encourage your virtual attendees to do the same. Then choose a few games that you each take turns hosting. Bingo, Charades and Pictionary are a few that can be played virtually.
Have a Virtual Tree Decorating Party
If you're decorating a tree or lighting a menorah, you could do it along with family members near and far via video chat. If you don't feel comfortable venturing out, keep in mind that there are a number of NYC Christmas tree delivery options. In fact, here in New York City many more places than usual are offering delivery, so even if your go-to spot didn't deliver in the past, they might this time around.
Make a Home Theatre
Keep it simple by dimming the lights, preparing some popcorn and putting on a movie. If you live alone, Netflix Party is a nice option so you can watch along with friends. For a next-level experience, pick a theme such as holiday movies or films set in Brooklyn, check out these crafty Etsy ideas, buy some sweet treats from Economy Candy that can double as snacks and centerpieces, try a home projector, or have the kids make admission tickets or signs.
Host a Virtual Bakeoff
'Tis the season for decorating sugar cookies, baking challah bread and building gingerbread houses. Pick a date amongst friends or family so that you can all bake together. Coordinate a holiday playlist ahead of time. Before showtime, create an inviting workspace by laying out your ingredients in advance and adding a few seasonal decorations to your kitchen counter or table. Once the bakeoff begins, start your playlists to help set the mood.
Most importantly, have fun and be safe no matter how you choose to decorate.
Featured Listings
More Articles