Beyond Brownstones: A Guide to Park Slope Brooklyn's Offbeat Attractions
June 7, 2023
A stroll across the Brooklyn Bridge, visit to Brooklyn Botanic Garden or picnic at Prospect Park are some of the many popular attractions in Brooklyn, rightfully so. But if you're the kind of person looking to get off the beaten path, where do you go?
Since our real estate office happens to be in Park Slope, we thought what better place to start than with a quirky Brooklyn activities list around our own neighborhood.
Here are our top picks of the cool, unusual and off-the-beaten path things to do in and around Park Slope.
Appreciate Architectural Marvels
We pass by a ton of cool architecture when we're out and about meeting with real estate clients or staging and selling Brooklyn homes. In our recent blog posts we shared 5 architectural marvels in Park Slope—and then featured 5 more Brooklyn sites to see. So if it's architecture you're looking for, definitely start by reading those before going any further on our list.
Puppetworks
Prepare to be wowed by the whimsical world of puppetry at this must-visit destination. The brainchild of Brooklynite and former traveling puppeteer Nicolas Coppola, Puppetworks opened its Park Slope doors back in 1991. Take the kids or rediscover your childlike wonder as hand-carved wooden marionettes and hand puppets perform original plays based on childrens' literature, music and fairytales. Showtime runs around one hour, making it ideal for young kids or anyone short on time. And if you're looking for a one-of-a-kind Brooklyn birthday party idea or group performance, Puppetworks has got you covered. Check out the show schedule on the Puppetworks website to see what they're cooking up.
Puppetworks
336 6th Ave
Brooklyn, NY 11215
Brooklyn Superhero Supply Co.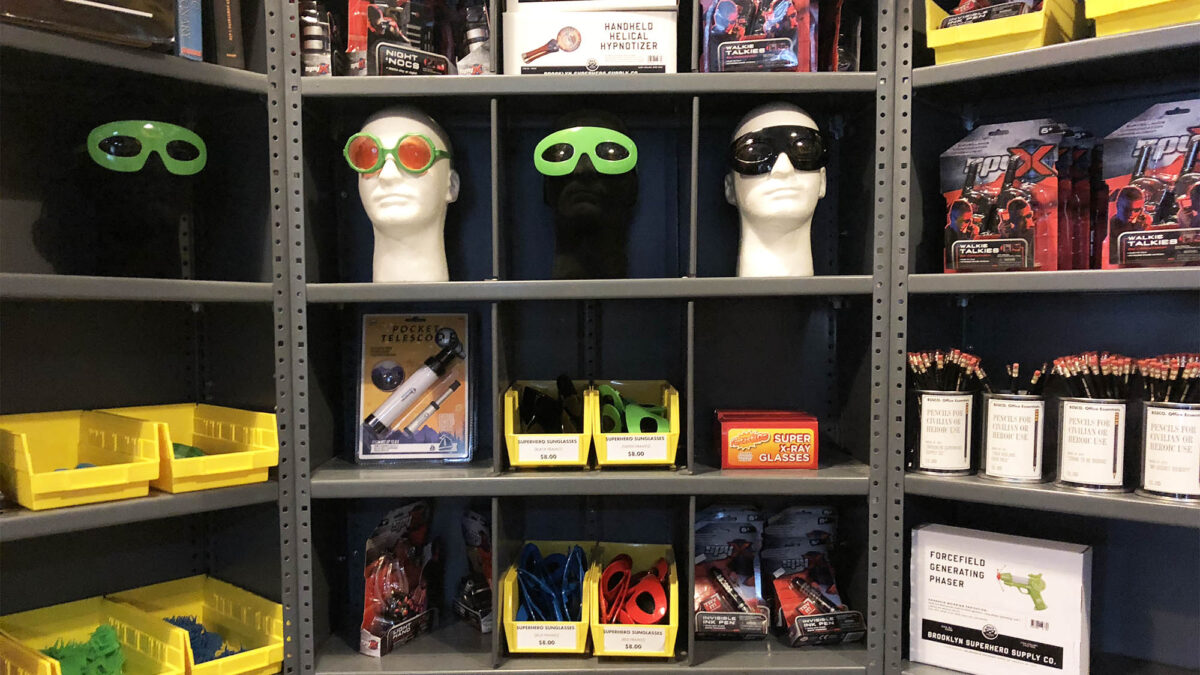 "Park Slopers, assemble!" This store has something for everyone, from aspiring superheroes to Marvel fans to crusaders of all ages. Founded in 2004, the Brooklyn Superhero Supply Co. is somewhat of a "hardware-supply store for superheroes." Take a seat in the mind-reading chair, test the effectiveness of a cape using the certified cape tester, try on some high-altitude flight goggles, or browse their nifty gadgets, toys and apparel. And for a bonus mission? See if you can find the secret library which houses 826NYC, a nonprofit writing and tutoring organization. Did we mention proceeds from BSSCO sales benefit the nonprofit?!
Brooklyn Superhero Supply Co.
372 5th Ave
Brooklyn, NY 11215
Interference Archive
For a unique and thought-provoking experience, head to Gowanus and pop into the Interference Archive to learn about prominent political and social movements that have shaped our society. With a mission to "explore the relationship between cultural production and social movements," the volunteer organization catalogs decades of posters, flyers, pamphlets, zines, book, shirts, recordings and other materials that visitors can spend hours poring over. You can also attend events and exhibitions or participate in workshops and discussions. Whether you're a history buff, activist or simply looking for something interesting to do, Interference Archive is a cool way to learn about the power of grassroots movements.
Interference Archive
314 7th St
Brooklyn, NY 11215
Endale Arch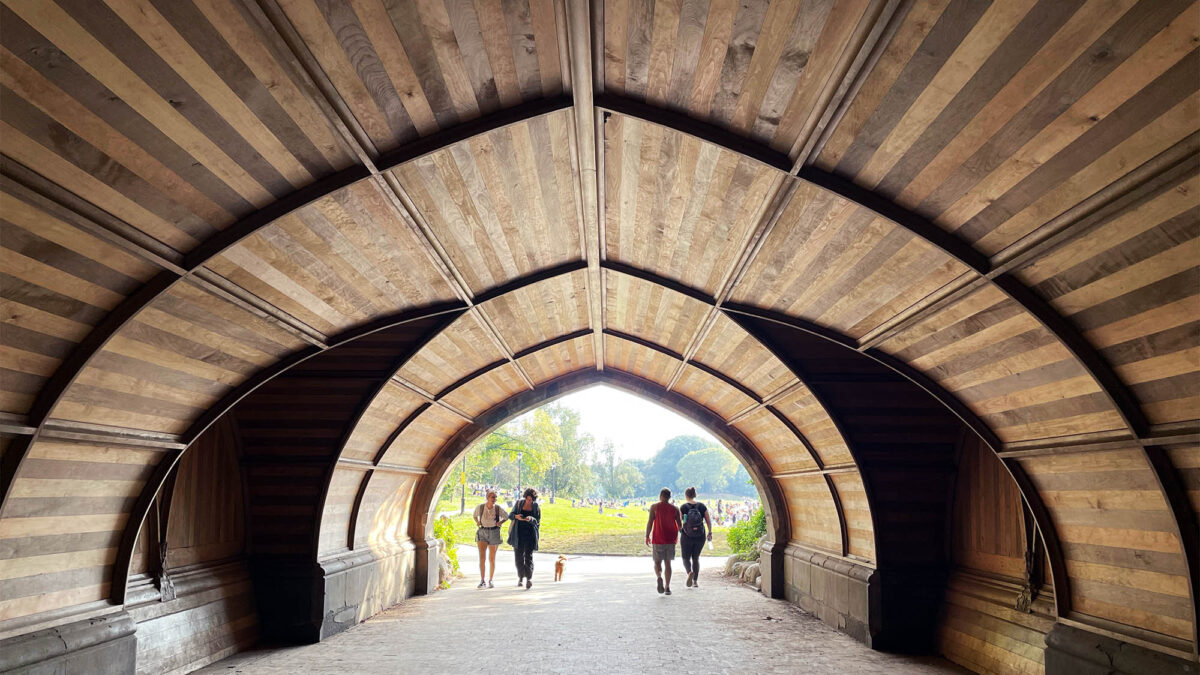 As we mentioned in our recent Park Slope architecture post, being a real estate agent often means long days on foot—and if we're lucky it also means the occasional nature break, cutting through Prospect Park. Sure, you can see birds, squirrels, flowers and trees in many NYC parks, but have you seen the historic Endale Arch? For more than 150 years this pedestrian walkway has welcomed visitors, originally acting as a portal from busy city life to a gorgeous bucolic landscape. Eventually the arch fell into disarray, but a delicate restoration project began in 2015 and was completed by the end of 2020, revealing original details along the way—some of which were left by the restoration team for visitors to admire. Clad in black walnut and white pine, and now illuminated by LED light, the elegantly striped arch is worth a visit.
Endale Arch, Prospect Park
11 East Dr
Brooklyn, NY 11215
Leroy's Place
If you've ever wondered where the monsters living under your childhood bed went, a lot of them probably ended up at Leroy's Place, a Park Slope art gallery and shop displaying eerie, cute, colorful creatures and handmade novelty gifts. Founded by monster artist extraordinaire Serene Bacigalupi, the quirky storefront offers a host of exciting exhibits that include installations, performances, short films, activities and DJ-hosted garden parties fit for fellow artists, creative spirits or anyone looking for something fun to do. Exhibits change every few months so take a look at their event calendar before you go.
Leroy's Place
353 7th Ave
Brooklyn, NY 11215
The Catacombs at Green-Wood Cemetery
Just south of Park Slope lies 478 acres of rolling hills and picturesque landscapes that make up Green-Wood Cemetery, a place where some of our real estate agents have been known to go for a peaceful Sunday stroll. Established in 1838, the cemetery is a national historic landmark and is the final resting place of famous figures such as William "Boss" Tweed, Jean-Michel Basquiat and Leonard Bernstein. Explore the grounds, birdwatch, book a tour or check out the many death education programs. Some tours and special events, like Concert in the Catacombs, take place underground in a cavernous area typically hidden from the public. Made up of 30 vaults and brightened by skylights, the catacombs provided a means of being buried above the ground without having to dole out as much money as one's own mausoleum. These days opportunities to see the catacombs are few and far between, but if you do get the chance to see it they're quite magical.
Green-wood Cemetery
Locust Ave
Brooklyn, NY 11218
---
Contact one of our knowledgeable real estate agents to explore buying, selling or renting in brownstone Brooklyn, and to discover more about the unique and interesting places to see in Park Slope.
Featured Listings
More Articles