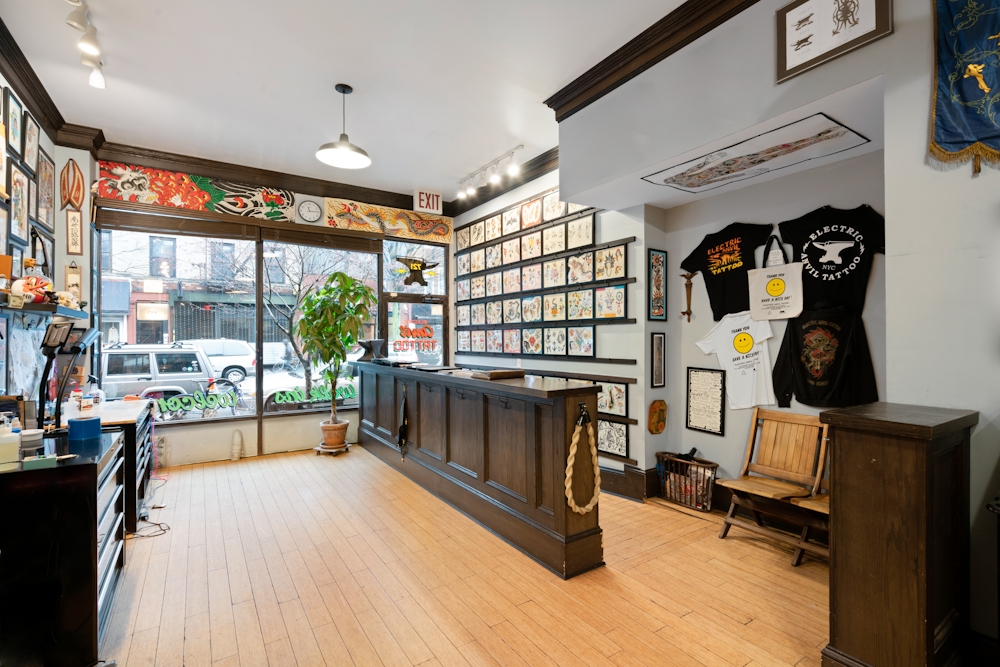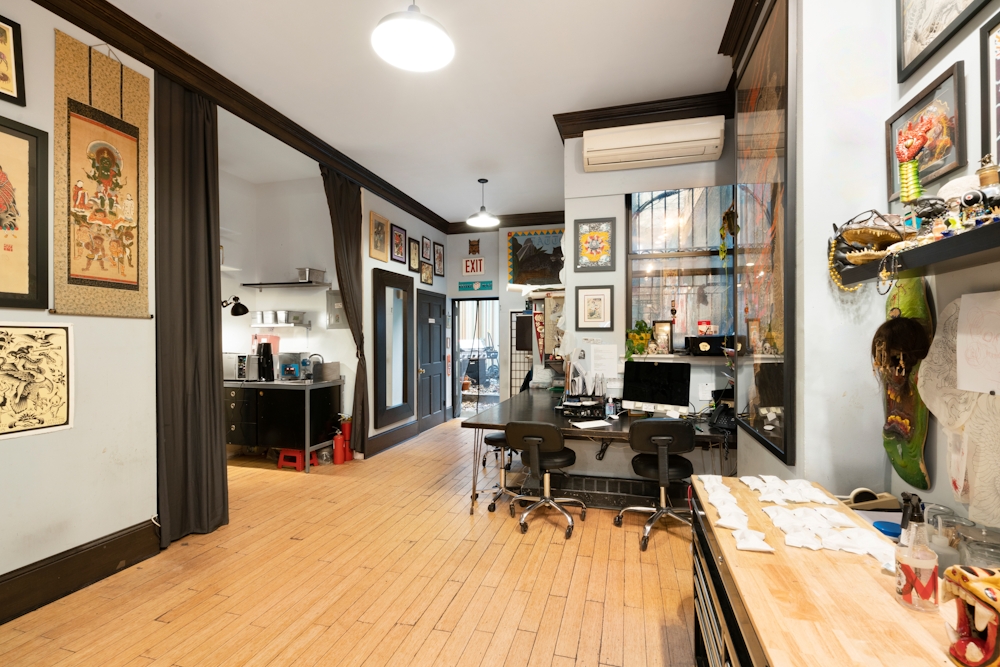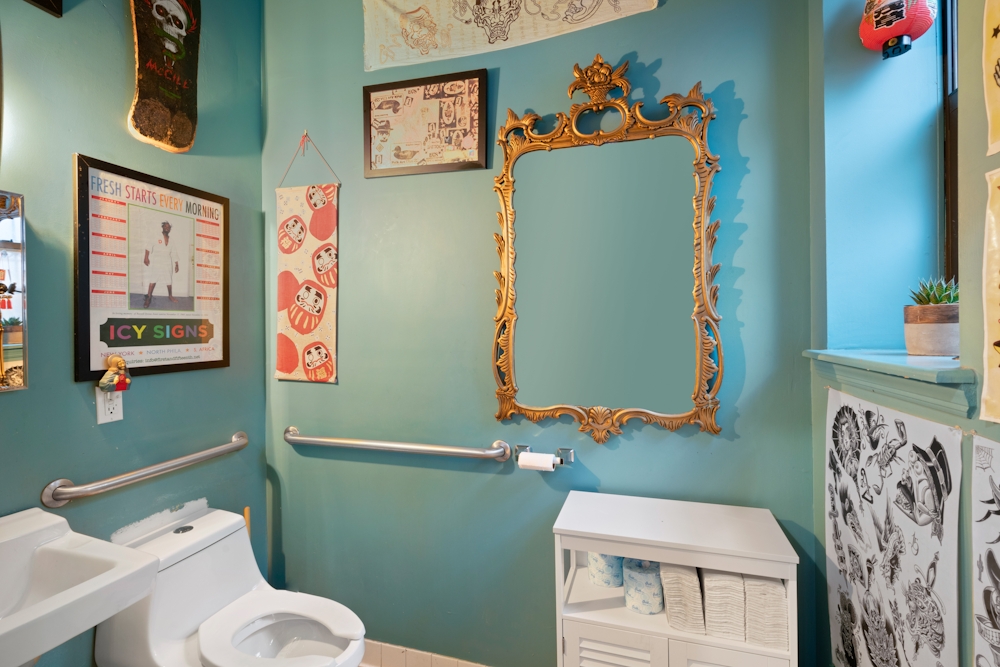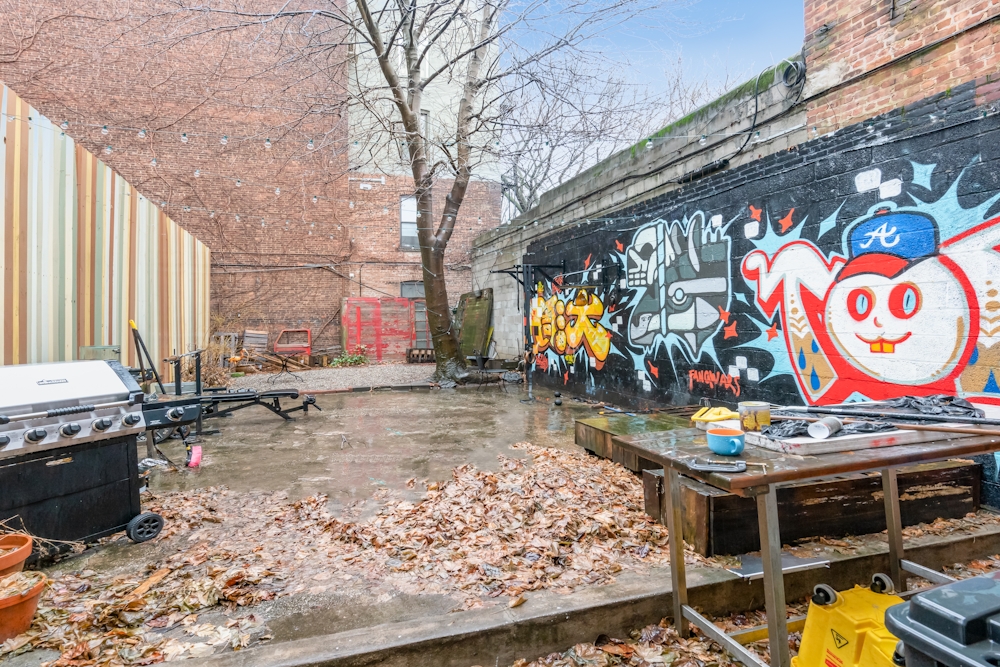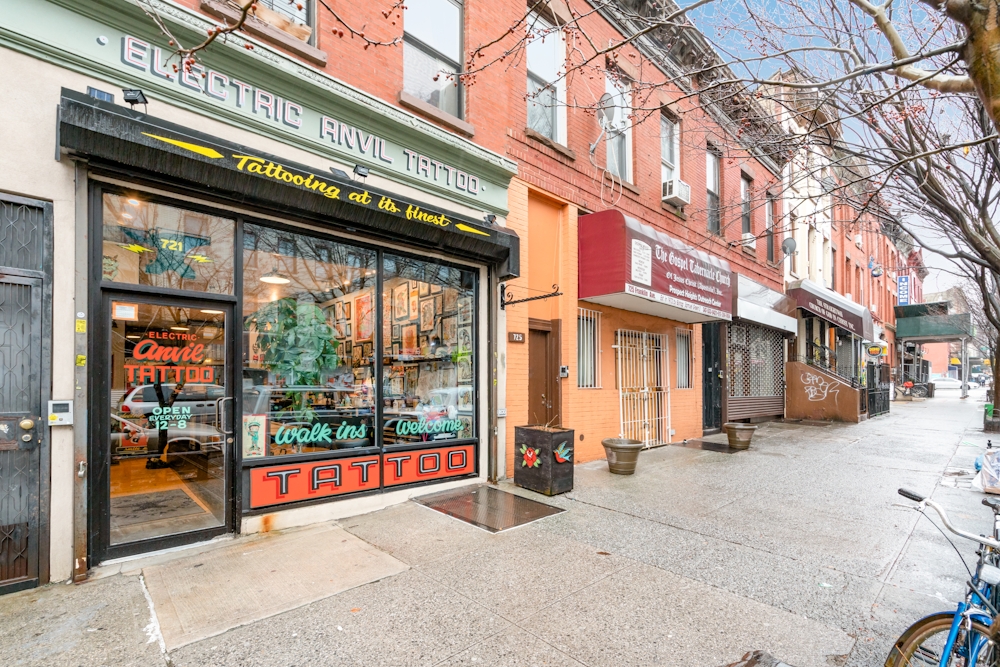 Do not miss this exceptional opportunity to establish the retail business of your dreams or expand or relocate your existing business in a prominent location amid numerous thriving businesses along trendy Franklin Avenue in Crown Heights with heavy foot traffic just steps from transportation (and non-metered street parking). Currently utilized as a tattoo shop that is relocating, the space is also suitable for a wide variety of businesses such as a boutique, restaurant, café, bakery, ice cream parlor, specialty grocer, florist, apothecary, salon, gallery, professional space, yoga studio, and more. The airy mint-condition space offers hardwood floors, high ceilings, original moldings, and a bathroom. There is a huge display window that lets in natural sunlight, as well as an entry at street level with an ADA-compliant ramp.
The storefront has approximately 18 feet of frontage nearly 1000 usable square feet of indoor space and nearly 1000 square feet of exclusive garden space (perfect for al fresco dining) along with access to a portion of the basement.
Taxes and water/sewer (depending on the nature of the business) are included. Tenant is responsible for gas and electric. Available April 1st. Flexible terms.
One (1) month broker fee paid by tenant. If tenant comes via a tenant agent, the fee is collected by the tenant's agent.
Details
Bedrooms:
Bathrooms:
Condo
No Pets Allowed
Features
Private Outdoor Space
Hardwood Floors
Renovated
Basement Usage
Private Garden
Bathroom
No Pets Allowed
Pre-War Building
Nearby
More about Crown Heights
▶
More about Crown Heights
▼
In recent years, multicultural Crown Heights, like many Brooklyn neighborhoods, has experienced a renaissance, particularly in the northwest section of the neighborhood near Franklin and Bedford Avenues, which are bursting with new shops, restaurants, bars, and cafes, including Chavela's, Barboncino, Mayfield, Aita, Glady's, Cent'Anni, The Crown Inn, Drink Lounge, Butter & Scotch, Breuckelen Coffee House, Bedford Hill Coffee Bar, Daily Press, and more. Crown Heights is also filled with rich architectural gems that span styles that include neo-Georgian/Federal, Romanesque Revival, and Renaissance/Baroque Revival. The Brooklyn Children's Museum is a popular destination for families, as is the Jewish Children's Museum. Crown Heights borders Prospect Heights to the west, Bedford-Stuyvesant to the north, Prospect Lefferts Gardens to the south, and historic Weeksville to the east. Medger Evers College is located in Crown Heights.
Laundromats / Dry Cleaners
Restaurants
Barboncino Pizza

Syd's

Catfish

Chavela's

Chop Chop Grub Shop

Pacifico's Fine Foods

Rosco's Pizza

Mayfield

Sunshine Co.

Bar Corvo

Silver Rice
Coffee Shops / Dessert
Cent'Anni

Little Zelda

Tinto

Richol Cafe & Bakery

The Pulp & The Bean

Lily & Fig

Cafe Rue Dix

Penny House Cafe

The Candy Rush

Glass Shop

Royal Bakery

Elsie's Doughnuts
Floorplan